This is a story about a technology solution that enabled two European industry leaders to play well with Microsoft Teams. In the world of ALL-IP communications, interoperability can be a major challenge. There is an endless number of market players in the IP-telephony field. Most business phone systems involve network elements from multiple vendors that may not naturally work together well, if at all.  This case study involves three vendor technologies that need a little help being friends.

The Players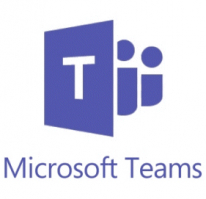 Microsoft Teams
As everyone knows, Microsoft Teams is a powerful unified communications (UC) solution for enterprises. The product provides companies with integrated voice, video, chat, conferencing, email, and shared workspaces. MS-Office applications, including Outlook, Word, Powerpoint, and Excel, are all integrated, so users can get their teamwork done all without switching among applications. When it comes to working together with business phone systems from other vendors, however, Microsoft hasn't won any awards for interoperability. Most SIP-based products, for example, employ UDP encapsulation, yet Microsoft applications use TCP encapsulation to deliver the RTP media stream within the SIP protocol. In order to deliver business-class telephony, Teams requires interconnections with a third-party IP PBX and an external SIP (or PSTN trunking) service. For the system integrator, getting at all the systems working together seamlessly can be a major headache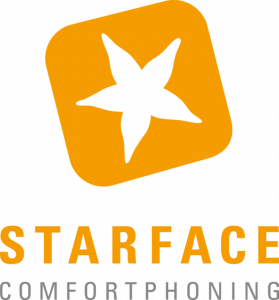 STARFACE
Based in Karlsruhe, Germany, STARFACE is a communications technology company specializing in IP telephony. Their ALL-IP business phone system is a LINUX-based IP PBX that can be delivered as a hardware CPE, a virtual machine (VM), or as a cloud-resident service. Because STARFACE and Microsoft have not implemented SIP in exactly the same way, some sort of intermediary is required to establish interoperability.
Fluxpunkt


Located in Nür­tin­gen, Germany, Fluxpunkt is a telecom software development company that makes software plug-ins for the STARFACE software PBX. One of their many products is a plug-in that provides user synchronization. The plug-in employs Active Directory Services to integrate the STARFACE PBX user interface with the phone services within Microsoft Teams.  Fluxpunkt was keen to find an interop solution that would allow them to remotely monitor and troubleshoot network performance, voice quality, and call-transfer success rates.
The Solution
To address the interoperability situation, STARFACE, together with Fluxpunkt, selected the SmartNode enterprise session border controller (ESBC) from Patton Electronics. Delivered as an on-premise CPE or in the cloud as a pay-as-you-go service (called the Virtual Smartnode or vSN), Patton's eSBC handles SIP protocol normalization among all the network elements it interconnects. When combined with the Patton Cloud Network-Edge Orchestration service, the SmartNode eSBC delivers powerful remote-monitoring and troubleshooting tools.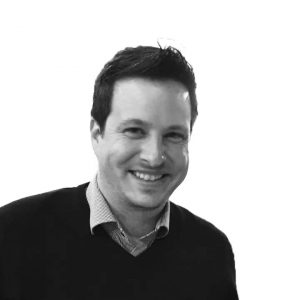 Fabian Wolf, CEO, Fluxpunkt expressed his feelings about the solution like this:
"…wir sind RICHTIG GLÜCKLICH mit der neuen Call-Visualisierung und Auswertung!"
Translation:
"…We are VERY HAPPY with the visualization and analysis the call monitoring tool provides!"
The picture below shows how all the elements are interconnected as an integrated solution.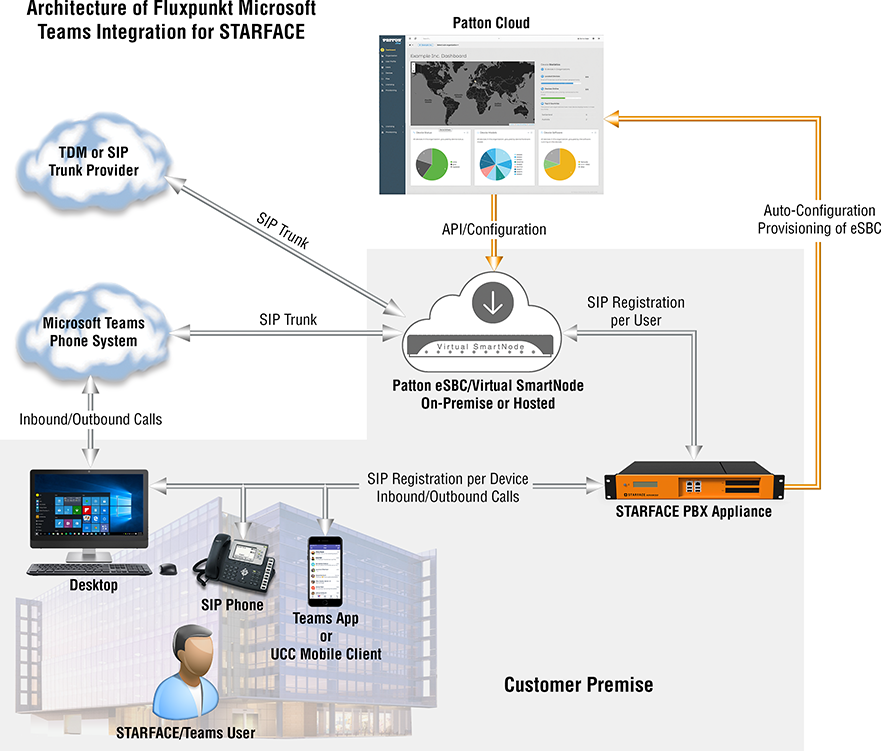 Fabian continued:
"Wir konnten soeben ein halbes Dutzend Support-Cases schließen und zeigen, dass Infrastruktur oder Provider an nicht vermittelten oder schlechten Gesprächen schuld sind."
Translation:
We have just closed a lot of support cases where we could identify calls not transferred or calls with bad voice quality and whether the network infrastructure or the service provider was at fault.
More Goodies
The SmartNode eSBC adds a lot more goodness to the UC service than we have room to cover in this blog:  things like SRTP encryption for call security, SIP Options packets that enable Microsoft Direct Routing, data-synchronization among applications, call forking, and fully qualified domain name (FQDN) support.
>>Get the details about all the challenges Patton solved in this case study:
What did you think?
What sort of challenges have you faced when integrating Microsoft Teams with a SIP trunk service and IP PBX?
How important to you are Direct Routing and FQDN support??
Please share your thought in the comments below.