Emergency phones, call boxes, access control terminals (ACTs)  and emergency notification devices are designed and deployed to save lives and limbs. Yet many such endpoint devices were designed with analog interfaces that do not readily interconnect with modern Session Initiation Protocol (SIP) based telephony systems or communicate across today's IP networks.

Code Blue Emergency Call Station
As a further complication, many analog emergency call stations still depend on legacy, single-pair cabling infrastructure.
Meanwhile, most of today's emergency-alert network systems have already migrated to ALL-IP, are in the process of doing it now, or have plans to do so in the near future.
Solution. All of these challenges can be addressed by installing a Voice-over-IP (VoIP) gateway that provides analog-to-IP conversion between the analog emergency-notification endpoints and the IP-based management and alerting network system.
One example of such a solution was designed by Patton for Code Blue Corporation. Code Blue now uses Patton SmartNode analog-to-IP gateways to connect analog emergency signaling and alerting endpoints to its SIP-based integrated emergency management platform, branded ToolVox®.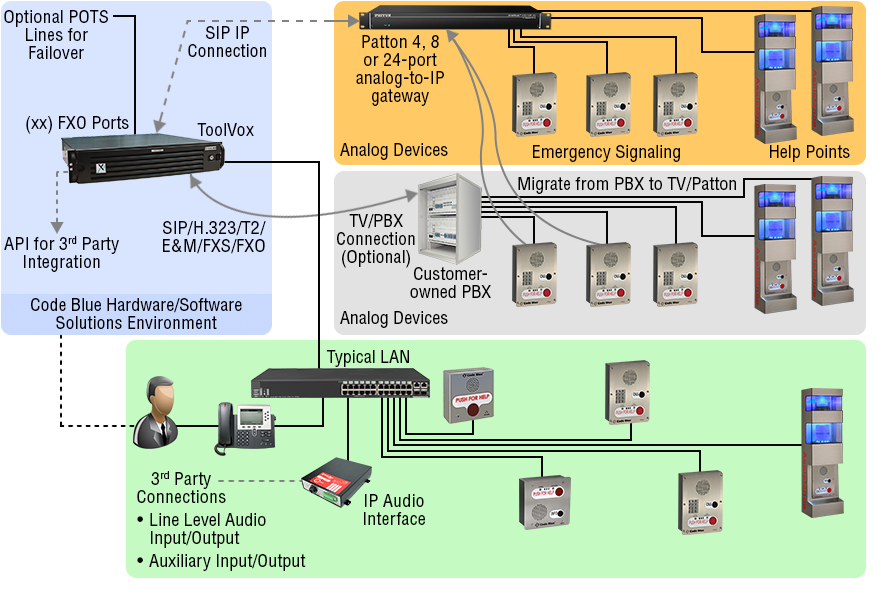 The SmartNode gateway  connects to analog end-points using existing (pre-installed) copper connections. The emergency signaling devices and emerency call stations can now use Code Blue's ToolVox® systems management platform.  By creating a separate individual SIP account for each analog extension, the SmartNode creates a IP communication channel to the ToolVox application system for each device over the Code Blue private IP network.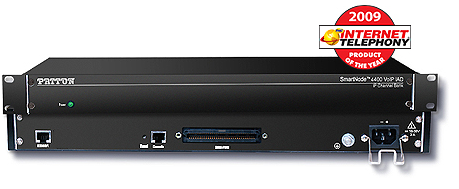 This post is a short summary of the application success story, published under the title Code Blue: Help Points, Emergency Call Boxes, and Alert System Migration to VoIP
For a more detailed description of the Code Blue Corporation and application specifics, including an enlarged application drawing go to