Some people say DSL is dead. But really, it depends. If you're trying to deliver broadband to an existing neighborhood or business park, why not use the existing copper loops? Or… you could go through the hassle and expense and delay of installing new fiber. Your choice.
Still, if you're trying to reach subscribers in a new development, it makes a lot of sense to go ahead and run fiber to the premise while the ground is all torn up. Go for it.
In the first case (existing infrastructure), the latest advances in DSL technology—especially ADSL2+ and VDSL2—make broadband over DSL more expedient (fast, easy, and cost-effective to deploy) than ever for carrier-providers seeking to expand their subscriber base. With new construction, might as well go with fiber.
Geography also plays into the decision-making process. In rural areas, particularly, the cost of installing fiber cabling can be prohibitive yet DSL may or may not achieve the required distance. In developed areas, the disruption of existing infrastructure may be unwanted and/or unwarranted.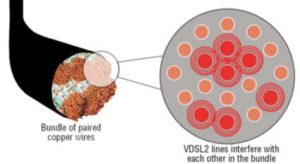 So we argue there is a right time and a right place to leverage DSL, as well as a right time and place to make the transition to fiber.
Still, we must admit, DSL has had its challenges over the years. Crosstalk—interference among copper pairs in the wire bundle—is one of the problems that has long plagued DSL with distance and reliability limitations.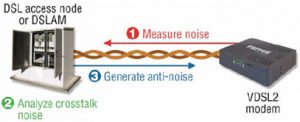 Newer DSL implementations, specifically ADSL2+ and VDSL2 employ vectoring technology to ameliorate this challenge.
The question of which DSL flavor to employ is usually rather clear:  asymmetrical for consumer service and symmetrical for business-class service.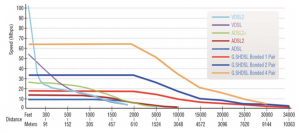 Still, distance (reach) and speed (rate) requirements are also a factor in technology selection. The various flavors of DSL offer widely varied capabilities with respect to the speed-versus-distance tradeoff.
For more guidance on this and other questions, watch the recent webinar on demand about DSL solutions.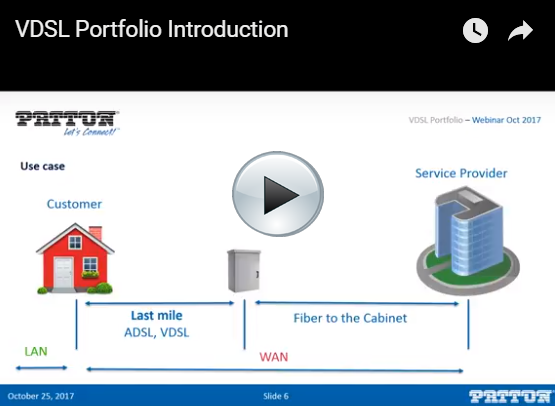 Patton has recently introduced a new portfolio of CPE products, including a router modem and a veritable plethora of VoIP IADs that include onboard ADSL2+/VSDL2 WAN interfaces.
Watch the video above to learn more about the application solutions these products offer for delivering broadband access.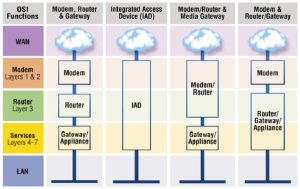 A related question is whether to employ a single-box CPE (integrated access device – IAD) or a multi-box CPE solution. For a thorough discussion of this topic, see the white paper:  CPE Architecture: When Does All-IP Equal All-In-One
What do you think?
In what scenarios would you choose DSL over fiber for broadband service delivery?
Where and when would you choose a multi-box versus a single-box CPE architecture?
Add your thoughts in the comments below…