At Blue Note Entertainment Group, Patton's new AVoIP Gateway is a key element in making long-distance live audio and video performances a thing. Here is a story about how a team of experts made it work for a group of performing artists.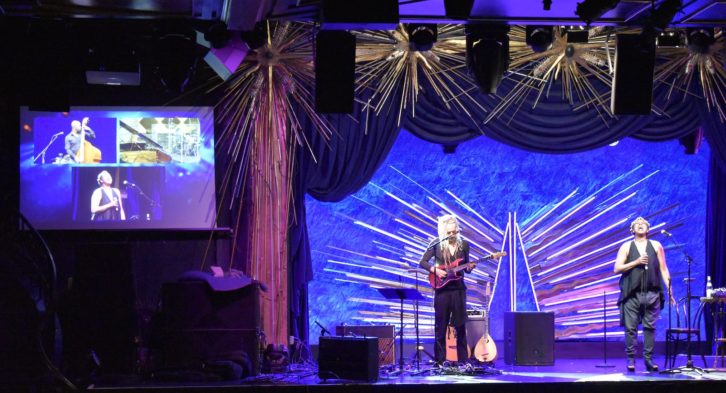 Musicians playing together in a live performance kind of need to see each other.  The nod of the head, the little smile, the raised arm, are essential visual cues artists count on to communicate—to make sure the music all fits together and comes out sounding right.
Performers collaborating from different locations and performing in real time face some challenges. One of those troubles is the inherent delay—latency is the term used in networking technology—typically experienced when using communication technology.
Audinate, with its revolutionary audio/video technology, called Dante AV, has addressed this latency problem for motion pictures as well as sound. Patton is the first manufacturer to implement Dante AV in a commercially available, manufactured product: the FiberPlex FPX6000 AVoIP Gateway.
So, now, we have a cool story about all that. . .
June 2021, Blue Note hosted a closed-door show in NYC at Sony Hall. The performing artists were distributed among Nashville (drums, piano), DC (bass), and New York (guitar, vocals). The idea was to get everyone connected over the Internet so they could all hear—and see—each other, synch up, and lock in.
The tricky part? Technology-wise, each location needed customized latency settings to accommodate the transmission delay characteristics for the length of its connection.
The engineers on the project employed a pair of Dante-enabled mixing consoles at each site to line up the signals and get everything synchronized. In each location, all the system elements were interconnected over a 1-gigabit Ethernet network.
Geeky Stuff. At each location, the live video was captured by Bolin D220 Dante AV cameras. The video encoding and decoding—at 1080P/30FPS—for transmission over Ethernet was delivered by Patton FPX6000 Dante AV AVoIP gateways. Video monitor screens were installed stage-side for the performers. The screens operated at 720P/60FPS.

The World's First Dante AV™ Gateway (Encoder/Decoder)
Now, all the artists could hear, and see, each other in real time—as if they were all together in the same room.
Want to learn more about Dante AV solutions from Patton?
>>Go to www.patton.com/danteav
What did you think?
Did you find this story interesting?
Were you familiar with Dante AV technology before you read this blog?
Please share your thought in the comments below.