In the wake of wartime destruction, a national oil and gas ministry in the Middle East needed to interconnect four remote sites with the main headquarters.

As part of the rebuilding effort in the Middle East, Patton was able to provide a  secure IP-telephony system for the national oil and gas ministry.
It is interesting that two of the sites were actually ships at sea using satellite links to communicate with the ministry headquarters.
SmartNode VoIP CPE products were key elements in the complete communications solution.
In addition to the maritime mobility and satellite communication aspects, the project came with a couple additional requirements:
Security — Voice traffic must be secured against interception and snooping. Yest the new system must integrate with the existing software IP PBX, which does not support TLS encryption.
Redundancy — The ministry required redundant connections to two IP-PBXs for failover service.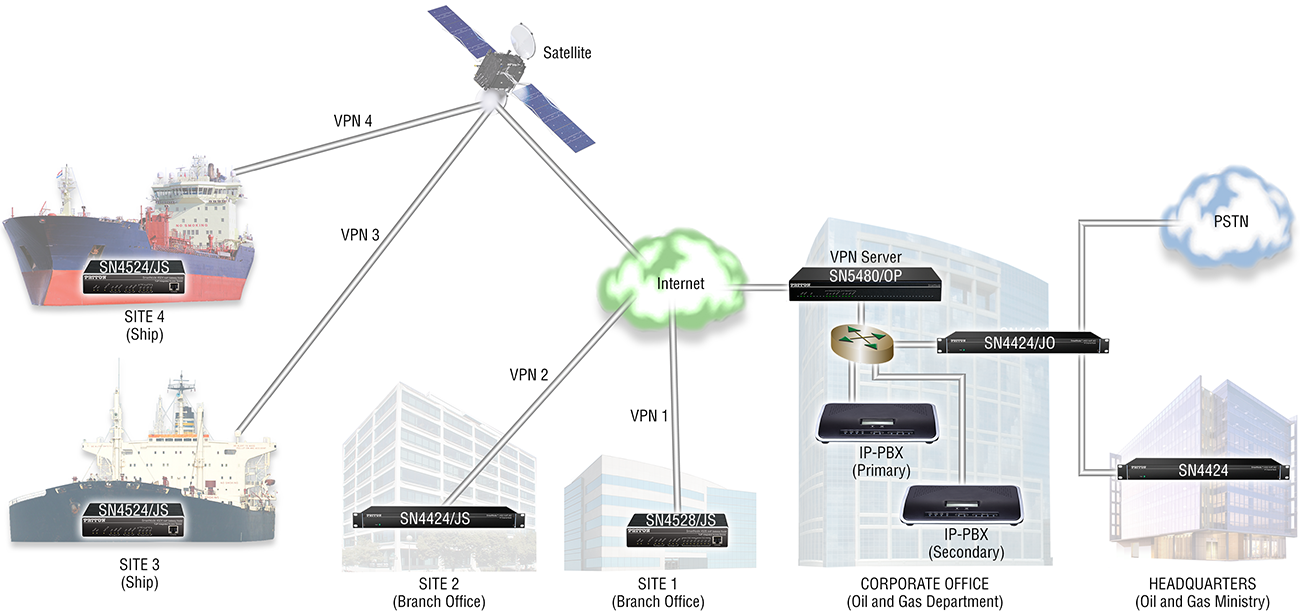 Oil & Gas Ministry Communications Network Diagram
The local system integrator chose Patton as the supplier for VoIP customer premise equipment (CPE) because of the unique capabilities the SmartNode VoIP product line offers.
Some noteworthy SmartNode feature/functions leveraged in the deployment are cited here below:
Integrated POTS interfaces: FXS for handsets, and FXO for PBX connections
VPN server functionality, a native SmartNode option

VoIP-over-VPN technology

, delivering secure, encrypted voice, using IPsec 

strong encryption, AES and 3DES keying, and Internet Key Exchange (IKE)
CODECs: comprehensive selection
Advanced Call Routing

 with powerful, flexible, configurable algorithms
SmartNode VoIP CPE Devices Employed
A SmartNode Enterprise Session Border Controller (eSBC) and router was configured to function as a VPN server. Positioned at edge of the LAN the eSBC interconnects remote sites and headquarters using secure VPN tunnels running through the public Internet while routing local traffic to the dual-redundant IP PBX.
A multi-port SmartNode Analog VoIP Router (24-port FXS channel-bank) is installed at two remote sites. With satellite connections involved, low-bandwidth CODECs were configured to optimize available bandwidth. Called numbers are screened so local traffic is routed the within the ship.
An 8-port SmartNode analog VoIP gateway-router, installed at two remote sites supports up to 8 FXS or FXO telephone connections. It combines voice-over-IP (VoIP) with advanced Quality of Service (QoS).
What do you think?
Do you find this kind of story interesting?
Would you have any similar project requirements coming up?
Add your thoughts in the comments below…