The first post in this series gave an overview of the advantages of PoE extension technology for long-range Ethernet/IP connectivity—and electrical power delivery—to endpoint devices in industrial applications. Now, in Part II, we will examine a couple of useful applications:  an outdoor PoE surveillance camera, and and outdoor PoE horn speaker. Read on. . .
This post is Part II in a series about  leveraging PoE technology to save money and streamline implementation of digital signage. Part I covered the industry trends and key benefits.  >>Read it here…
Consider Figure 1 below. Typically an Outdoor IP surveillance camera when it is installed normally requires two connections, AC power, plus a high speed network connection for video recording and display.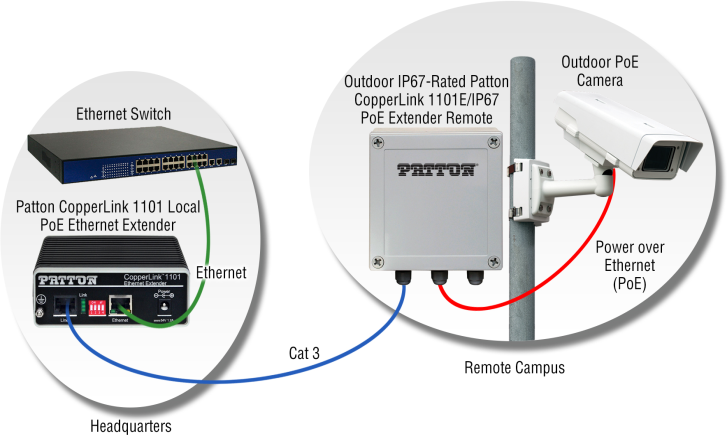 Figure 1:  Outdoor PoE Surveillance Camera
The outdoor industrial PoE Ethernet extender would use just one cable and provide both power and a 100 Mbps Ethernet connection which is fully transparent to the IP video formats/compression schemes. This enables a simple surveillance solution.
Look at Figure 2 below. Here, we are able to deliver power PoE (802.3af)-electrical power and Ethernet connectivity to an outdoor Session Initiation Protocol (SIP) based, IP outdoor loud speaker/horn that could be used for voice paging or security/emergency notification and alerting.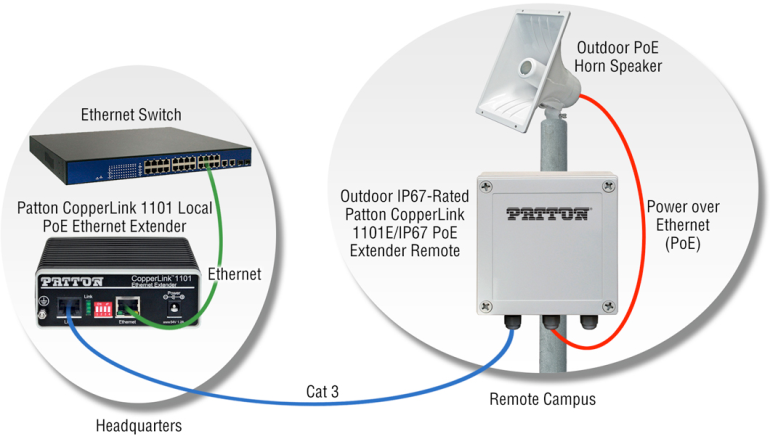 Figure 2:  Outdoor PoE Horn Speaker
PoE Ethernet extender allows the Horn speaker to communicate with the SIP IP based centralized Paging system at the factory HQ on the 802.1Q VLAN tagged voice VLAN.

This article is Part II of a multi-part series. Watch for Part III, in which we we will explore, two additional applications for the industrial IP67 NEMA 4X PoE Ethernet extenders:
# Outdoor PoE WiFi Access Point
#Outdoor SIP PoE Industrial Phone
Then we will discuss the operational testing we conducted, and wrap up with a conlcusion.

>>You can read full online article in the Patton Articles Archive. . .
Are IP67 PoE Ethernet Extenders the Answer for Industrial Connectivity?
What do you think so far?
Did you find the application scenarios interesting?
Does PoE extension technology hold promise for your long-range Ethernet and power delivery to outdoor IP-enabled endpoint devices?
Add your thoughts in the comments below…