Unified Communications (UC) promises enhanced worker productivity for businesses, with such attractive features as integrated voicemail and email, desktop voice and video calling, colleague presence awareness, and more. Microsoft's unified communication products include Skype for Business, Office 365, and most recently, Microsoft Teams.
Sadly, for many enterprises, the voice part doesn't work—at least not out-of-the-box.

Alas, Microsoft likes to do Voice-over-IP in their own special way.
Specifically, most of the world have implemented the Session Initiation Protocol (SIP)—the industry-standard VoIP signaling protocol by encapsulating it within the User Datagram Protocol (UDP) protocol data units (PDUs).
For their own mysterious reasons, Microsoft has chosen to encapsulate SIP within the Transport Control Protocol (TCP) PDUs, instead of UDP. That design decision pretty much breaks Voice-over-IP for everyone else. So, you're going to need an interoperability solution—known as SIP normalization—to translate the Microsoft information into a format everyone else can understand.
But there are other problems…  legacy devices
Countless organizations operate today using traditional Key System or TDM PBX voice communications as well as traditional T.30 analog fax machines. These systems are part-and-parcel of daily business operations for many enterprises. So how do you interconnect your old analog phones, PBX, Key Systems, and fax machines with your new state-of-the-art UC system?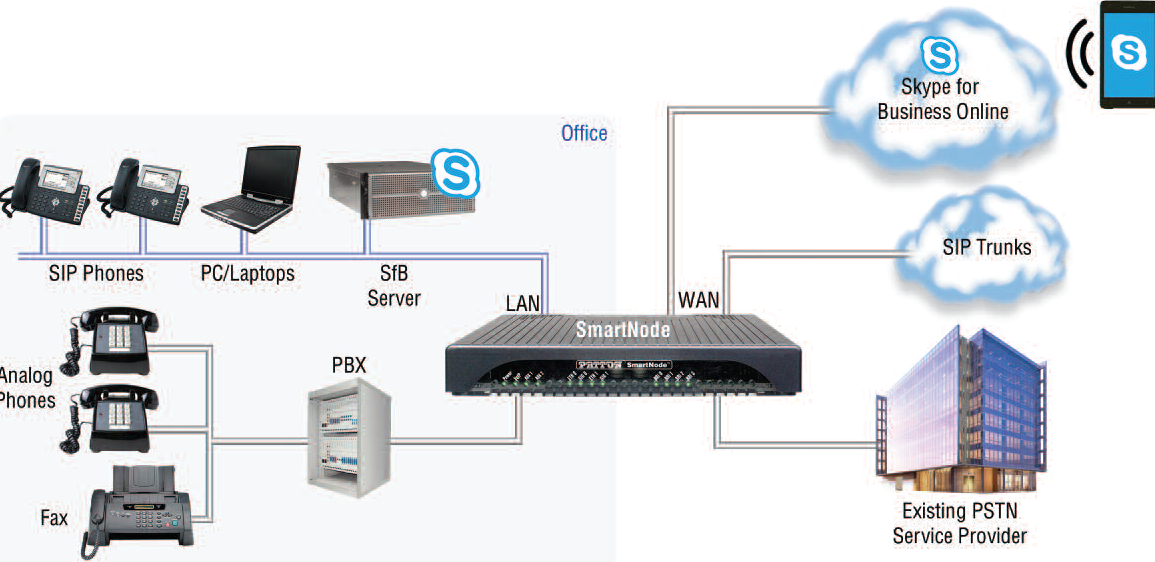 SfB Legacy Integration
Well, if anyone can help with legacy integration, it would be Patton. The Maryland engineering and manufacturing firm has specialized in multi-system interoperability—integrating business-critical legacy technologies with the "the next new thing"—for almost forty years.
Validated for interoperability with Skype for Business, Patton empowers all those organizations to connect to the new world of ALL-IP communications—delivering increased mobility, enhanced teamwork, heightened customer engagement, and higher productivity.
TekVizion, a third-party Microsoft-certified validation lab, has certified Patton SmartNode products for interoperability with Microsoft Skype for Business, as well as forward-compatibility with Microsoft Teams.
>>View the Statement of Verification
By installing SmartNode VoIP gateways and enterprise session border controllers (eSBCs), organizations can reap the cost-savings and productivity benefits of SfB UC and unified communications as a service (UCaaS) solutions, while preserving investments in working analog or digital PBX and fax equipment, phones, speakers, intercoms, and paging systems—all without sacrificing traditional PSTN connectivity.
>>see the case study…
SmartNode eSBCs seamlessly integrate Microsoft Teams with Voice Trunks and STARFACE PBX Telephony Services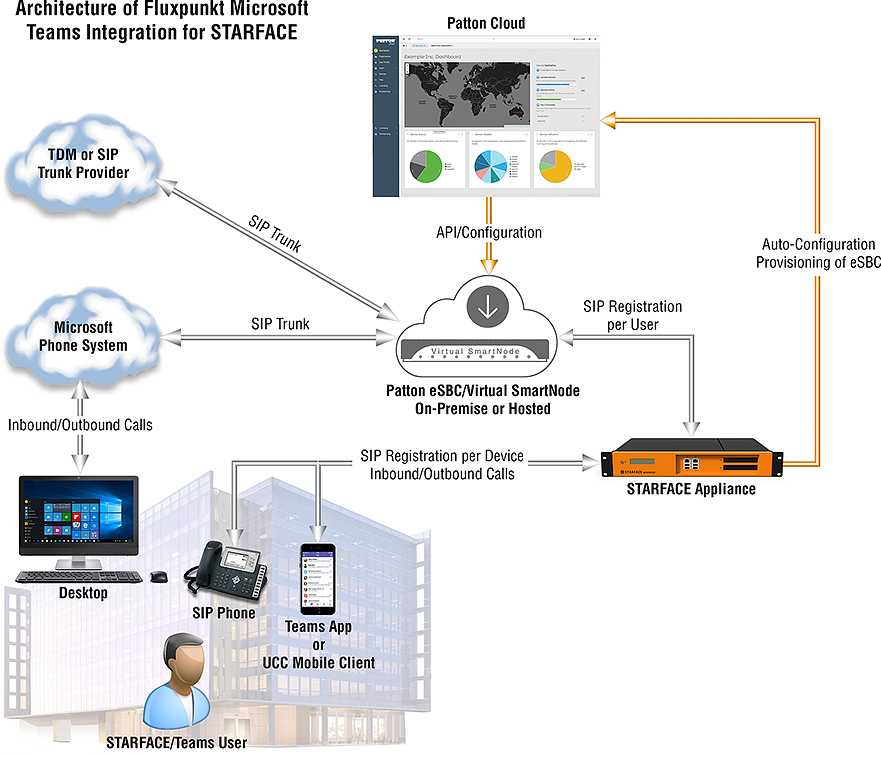 As a bonus, the Patton Cloud edge orchestration service makes it extra-easy to activate, configure and manage the SmartNode-enabled connection with on-premise or hosted Skype for Business.
To facilitate trouble-free installation, Patton has published a free guide that covers countless business cases and real-world applications for Microsoft UC solutions integrated with old-fashioned, yet business-critical, communications technologies.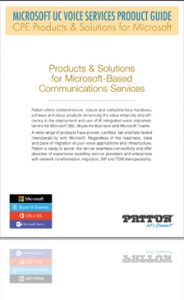 Patton offers comprehensive, robust and complementary hardware, software and cloud products enhancing the value simplicity and efficiency in the deployment and use of IP integrated-voice implementations for Microsoft 365, Skype-for-Business and Microsoft Teams.
What do you think?
How has your experience been with implementing unified communications?
Do you have any stories about how Patton might have helped you get your UC up and running?
Add your thoughts in the comments below…