Distributed contact centers are migrating to Session Initiation Protocol (SIP) and IP-based communications infrastructure. These technologies reduce costs while increasing business agility and productivity. For the converged voice networks the Enterprise Session Border Controller (eSBC) can play a pivotal role in ironing out interoperability concerns while securely enabling SIP communications.

Because eSBCs manage and control the SIP signaling and the associated RTP (Real time protocol) audio streams, they are able to address challenges pertaining to SIP VoIP service quality, security, and SIP interoperability [e.g. Handle codec mismatches and subtle differences in SIP].
At small remote office contact centers, if we can deploy eSBCs that also incorporate  support for E1/T1 ISDN PRI (Primary Rate Interface) connectivity and or analog FXO (Foreign Exchange Office) connectivity, it would offer resiliency and high availability for the voice services. In the event of a catastrophic failure of the MPLS (Multi-protocol Label Switched) WAN link… if the interconnecting WAN link goes down. …. local voice calls from the branch now can be re-routed over the available E1/T1 PRI or the analog lines.
The above solution is also useful for organisations migrating to SIP trunks from PRIs or analog lines as it would facilitate a phased migration from TDM (Time Division Multiplexing) system to an IP Telephony system while leveraging the existing incumbent facilities to deliver quality voice service and high availability.
For a before and after comparison of the SIP communications architecture and topology, we have come up with Figure A (below). The block schematic depicts remote small contact center offices without an eSBC.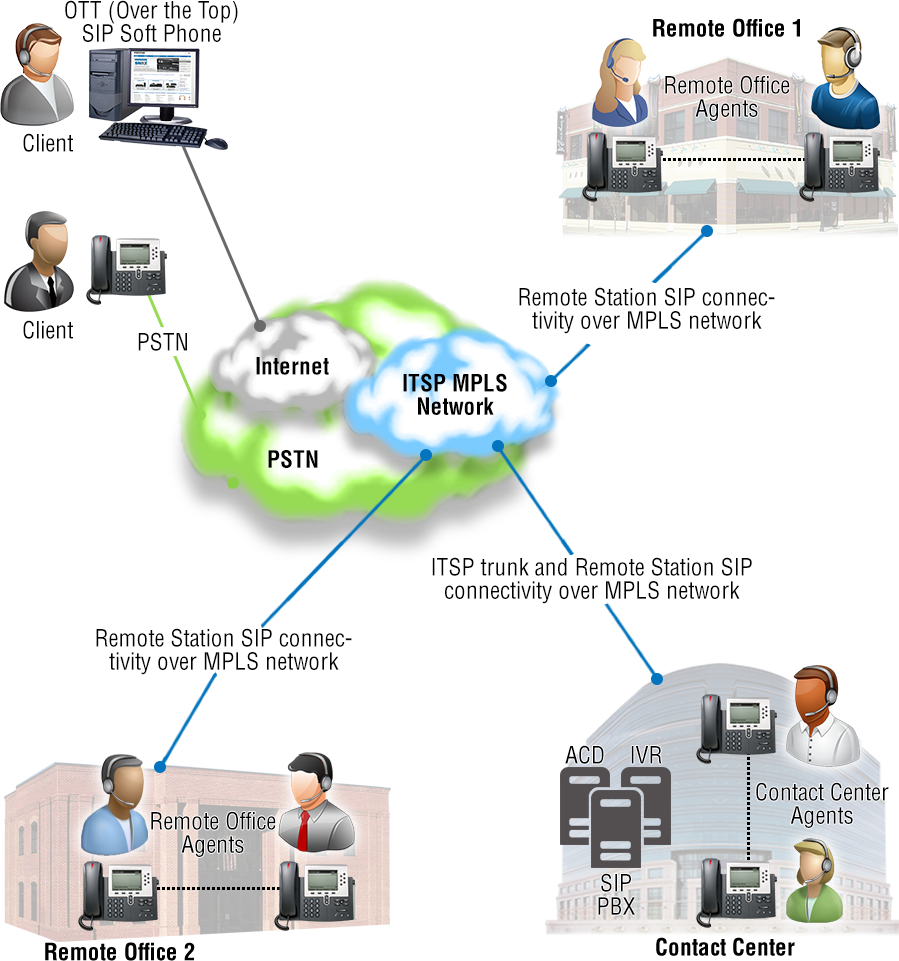 Figure B  (below) is a block schematic depicting remote small contact center offices with an eSBC installed.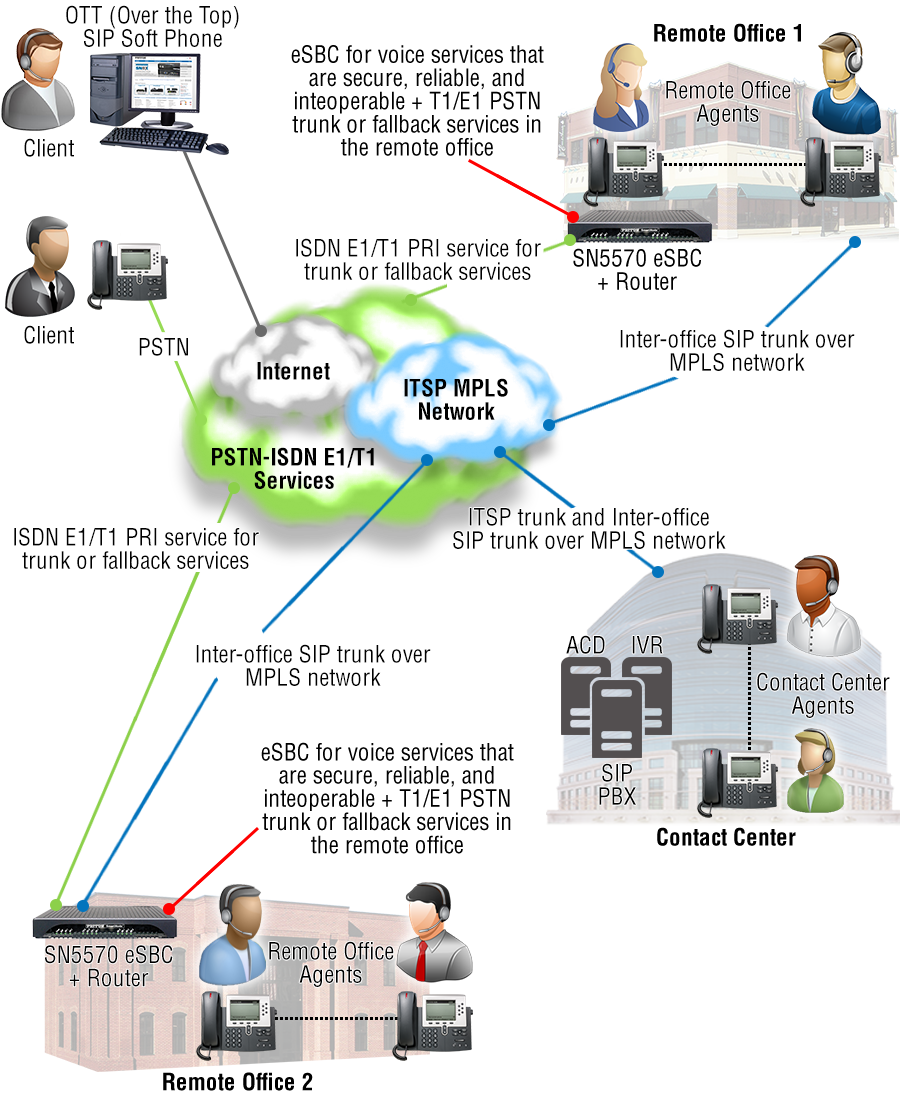 For our application illustration, ensuing discussions and subsequent eSBC testing we deployed the Patton SmartNode 5570 eSBC + Router equipped with 1 ISDN PRIT1/E1interface.
Let us now take a closer look at the preceding schematics and deployment strategy. You will find that we have retained the Multiprotocol Label Switching (MPLS) networks with expedited real time class CoS (Class of Service) allocation for voice on the data pipes for SIP trunks and remote office connectivity. However now…. you will note that  we have added an eSBC equipped with ISDN T1/E1 PRI ports at the small remote contact center offices.
The benefits that accrue from the eSBC deployment are manifold. You can now have toll-fraud control at the demarcation. QoS and codec selections are under your control. If necessary you can implement media transcoding. Such allows you to deploy SIP end points that support G.722 codec on your network. Further, you can interoperate with your ITSP (Internet Telephony Service Provider) who supports and perhaps offers only a G.711 codec. Now you have a demarcation point for SIP hand-off, making monitoring and troubleshooting easy.
Your contact center end points, such as SIP-based IP phone attributes and your branch IP network topology is not visible to the ITSP SIP endpoints. You can say yes to call admission control while thwarting SIP DOS attacks and achieve SIP interoperability by normalising SIP.
To top it all off, even when the SIP trunks are down the Contact Center agents with the IP phones at the remote branch can place outbound calls through the ISDN T1/E1 PRI ports.  When the SIP service becomes unreachable, the survivability agent can take over and connect the SIP sessions locally, allowing station-to-station, emergency, and external breakout calls.
The Patton SmartNode 5570 is one such an appliance that comes equipped with one or two T1/E1 PRI ports. It also offers such security features  as SIP TLS, SRTP, stateful firewall, split configuration domain (e.g. for service demarcation purposes between you and your ITSP SIP provider),  call transcoding for up to 16 calls, and more.
Functionality Testing
For this brief functional testing exercise, the primary focus was on the eSBC SIP functionality. We used the SmartNode 5570 eSBC + Router equipped with one T1E1 port and running software release version 3.13.0-18025. During the course of our testing we connected the SmartNode 5570 to a test SIP trunk provided by an ITSP (Internet Telephony Service Provider). The SmartNode 5570 was our demarcation point.
We successfully placed inbound and outbound calls from the PSTN (Public Switched Telephone Network) to the test SIP end point in the lab. The test SIP phone successfully registered with the 5570. As a matter of fact, we successfully placed inbound and outbound calls through a variety of SIP end points. For the preliminary T1 testing we used a T1 physical loopback connector and then enabled the ISDN E1T1 interface port on the 5570 with the following settings:
Port type- T1
Line-code- B8ZS
Clock-mode-slave mode
Framing- ESF
Line-Build-Out-0: 133ft
Application Mode-Short-haul
LOS Threshold
Conclusion
In the realm of small remote-branch voice communications, if your business objectives invlolve business continuity and disaster recovery (BCDR), TDM-to-SIP migration and/or branch voice service survivability can both be achieved (in equal measure) by deploying an eSBC equipped with T1/E1 interfaces:  such as the Patton SmartNode 5570 Enterprise Session Border router.