In the Digital Age, as a part of the digital transformation for unified communications (UC), organizations worldwide are retiring legacy ISDN/TDM primary rate interface (PRI) voice systems. They are replacing it with Session Initiation Protocol (SIP) based voice and real-time-communications (RTC) services.
Whether you are an Over the Top (OTT) provider of SIP trunking or an Internet Telephony Service Provider (ITSP)—or even a subscriber— the enterprise session border controller (eSBC) is a multi-function platform that can provide valuable services for SIP interconnections (real-time communications). The acronym SBC breaks down as follows:
Session refers to the RTC session between two endpoints.
Border refers to the crossing point between two networks with disparate trust levels:  e.g. your enterprise network and the service-provider network.
Controller refers to the ability of the platform to control the signaling and media sessions flowing through it.
So, at a minimum, the eSBC should provide session control and interoperability in a secure manner for the SIP interconnections between the various entities. Additionally, as a multi-function platform, an eSBC can provide such valuable services as transcoding, call admission control (CAC), encryption and authentication for secure connections to the SIP trunks, as well as network topology hiding.
While controlling the signaling and media streams, an eSBC can provide SIP mediation services, i.e. protocol normalization between the various SIP variants while normalizing and translating among the different media types. The eSBC also serve as a demarcation point between the carrier network and the subscriber network.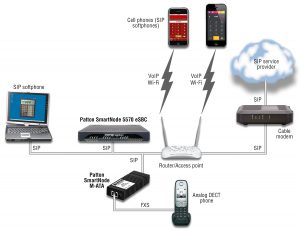 We summarily reviewed the features of the eSBCs from the Patton SmartNode VoIP family of appliances. We wanted to prove they deliver network security, assured voice quality and integration with legacy voice systems for SIP trunk deployments, while also keeping an eye on the total cost of ownership (TCO).
Given the continued dominant role of SIP in real-time communications, Patton's eSBCs are well placed to serve it.
For our discussion and functional testing…
>>Read the full article in the Patton Library
What do you think?
Did you understand the SBC acronym breakdown basics before you read this article?
Were you already aware of the functions and benefits an eSBC can provide to service providers and SMB subscribers?
Add your thoughts in the comments below…